Selected one of the Top ten beach reads to ideologically warm up any long hot summer – Labour Hub. "Dexter Whitfield offers an alternative: a renewable energy programme rooted in saving the planet, not saving the fossil fuel industry from itself. More than enough to brighten up any beach read."
By Dexter Whitfield, published by Spokesman Books, January 2023
The book exposes a new dimension to the climate crisis: how corporate interests dominate the renewable energy sector. These include private investment funds, venture capital, private equity funds and fossil fuel companies, which are developers and owner-operators of wind farms, solar parks, battery storage, hydro, biomass and energy-from-waste projects. Market ideology dominates the sector and outsourcing is widespread.
In response, the author details strategies for a democratic public future for renewable energy, protection of the built environment, nature and biodiversity. He demonstrates how decarbonisation, retrofitting, environmental adaptation and protection create new economic and industrial opportunities and generate significant good quality jobs.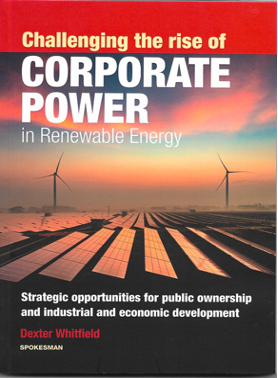 Scale of corporate domination
Projects are bought and sold in a secondary market with development rights and 'construction-ready status', either as individual projects or as part of a portfolio of operational projects, often located in several countries. The analysis is rooted in the Global Renewable Energy Database containing 1,622 transactions over 36 months between 1.1. 2019 and 31.12. 2021.
Deep structural flaws include:
Private Equity Funds have carved out a pivotal role in financing and owning renewable energy assets – they acquired 369 renewable energy assets and sold 178 projects between 2019-2021.
41 major renewable energy companies registered in tax havens were involved in 264 transactions to acquire assets whilst a further 47 transactions involved the sale of renewable energy assets. The use of tax havens to avoid or reduce corporate taxation increases corporate profits but reduces tax revenue for governments.
A sample of 20 private renewable energy companies paid their shareholders £8.75bn (US$10.7bn) in dividends in the study period reflecting a high level of profiteering in the sector.
A groundbreaking book, Challenging the rise of Corporate Power in Renewable Energy: Strategic opportunities for public ownership and industrial and economic development, by Dexter Whitfield, (Spokesman paperback £18, ePub £10).