New Labour is creating markets in public services on an unprecedented scale. Education, health and social care, children's services, housing, planning and regeneration, the criminal justice system and the welfare state are all being marketised. Privatisation inevitably follows marketisation, eroding democratic accountability and embedding business interests. The impact will be far reaching. Any benefits in terms of economic, social and sustainable development that are gained through regional strategies and city regions could evaporate if market forces are allowed to run rampant across the public sector. Alternative policies and strategies must build on the support for democratic governance, social justice and the welfare state. As this timely book makes clear, action by alliances of trade unions, community organisations and civil society organisations is urgently required.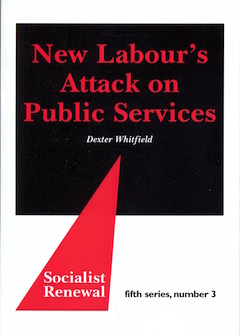 "What Dexter has done in this new book is to collect together the whole history of the way in which step by step the working of the market and the ethos of business competition has been brought into the public sector in the United Kingdom, replacing all practices and ideals of collective responsibility. The result is made abundantly clear in the growing inequality of provision for those who are well placed financially and those who are not." Michael Barratt Brown, The Spokesman, No 91, 2006
"the book provides essential theoretical ammunition for defending public services" Professor Patrick Ainley, University of Greenwich, Social Education Journal, No 2, October 2006
"…a key text for all those who want chapter and verse of one of the biggest changes to have taken place in the public sector since most of it was created in the post-war settlement. Whitfield provides us with the arguments and the detail that clearly demonstrate what New Labour have been up to during the last 10 years in this accessible yet, at times, scholarly work." Keith Popple, Professor of Social Work, London South Bank University. Community Care, 18 January 2007
"This book refutes the premise that modernisation and marketisation go hand in glove. In his defence of keeping the public sector public, Whitfield breaks down New Labour's rationale for marketisation by explaining exactly how markets work in theory and practice and most importantly how they can fail. …….does offer an alternative way forward and includes examples of successful campaigns against privatisation of the public services." Labour Research, October 2006
Spokesman Books, April 2006, 176 pages, £11.99 (bulk rates available) Download leaflet and order form: Available from bookshops, Amazon or direct from publisher.